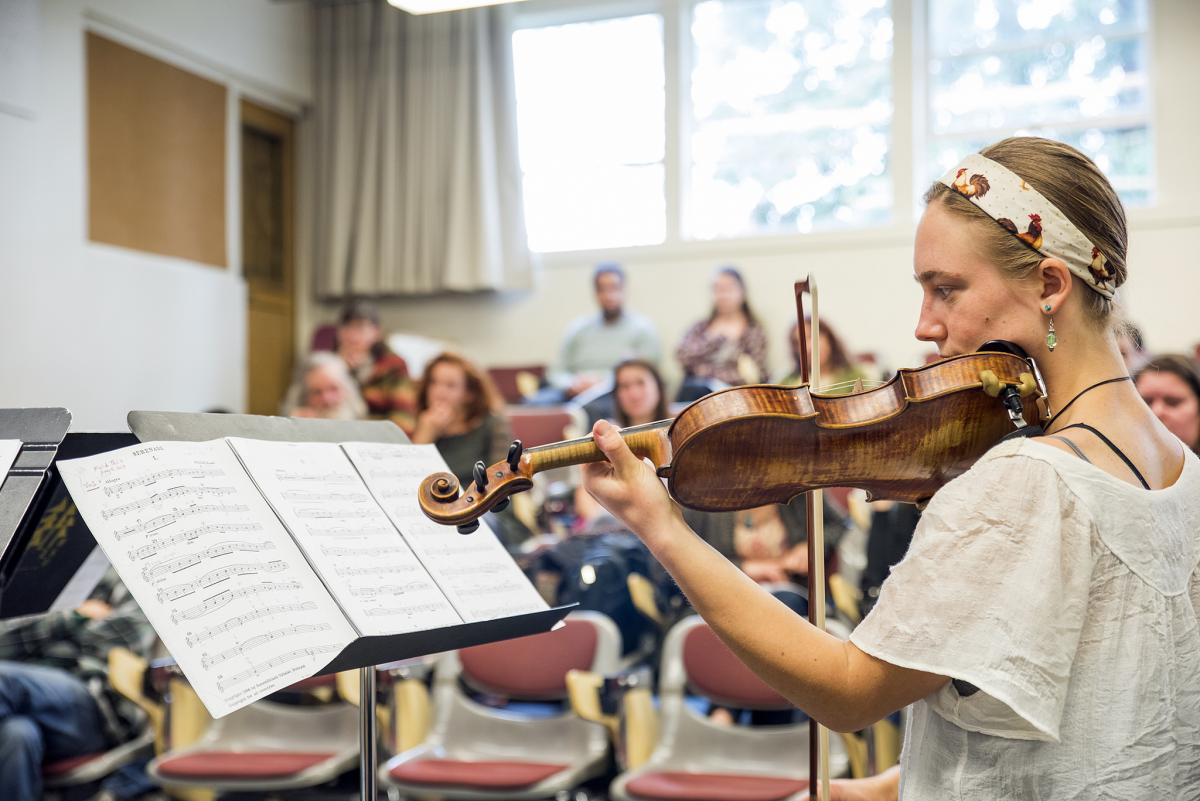 The Music Department at Cal Poly Humboldt is committed to providing quality education directed to individual student needs. In our department students:
perfect skills as a performer and leader
study the rich legacy and tradition of music literature and history
realize their full artistic potential in a supportive environment
prepare for graduate study or a career in a music-related field
The Bachelor of Arts degree program in Music at Cal Poly Humboldt provides a basic understanding of the theory and history of music, performance opportunities in many styles and genres, and individual instruction in voice, piano, composition, or instruments from a highly qualified faculty who are active musicians and scholars.
The Music Department faculty are known for their dedication to teaching and the broad range of their collective expertise. We have experts in music technology, world music, conducting, jazz, musicology, music education, and specialists on all orchestra instruments, voice, guitar, and piano.
Performance opportunities in a variety of ensembles and recitals.
Facilities featuring a 200 seat recital hall, 3 computer labs, many practice rooms, digital and analog recording equipment, many grand pianos, a large inventory of wind, string and percussion instruments and one of the most comprehensive chamber music libraries on the West Coast.
Small class sizes and excellent faculty/student ratio.
Accreditation by the National Association of Schools of Music.
Nationally known performers often come to Humboldt to perform through the University's Center Arts program.
Six nationally known jazz artists are brought to Humboldt each year by the Redwood Jazz Alliance. In addition to performing, each of these artists presents a free workshop at Humboldt.
Department of Music Mission Statement
The mission of the Music Department at Cal Poly Humboldt is to provide well-designed, cohesive, and effective instruction for our students; to be engaged with music as a performing art; to investigate music as a discipline with a considerable and global body of scholarship; and to promote music as a deeply rewarding lifelong area of expression. 
Throughout the history of humanity, music has been one of the most universal, essential, and enduring of human endeavors.  Through the study of the art of music, individuals can be empowered to deeply explore, understand, and objectify their own intellectual, emotional, and creative energies and impulses.  The study of music is, therefore, both an appropriate and an indispensable component of the educational development of university students, serving the mission of Cal Poly Humboldt and society at large in a unique and powerful way.
The Music Department accepts and strives to fulfill the charge that each person participating in the study of music in this department will be able to perceive music in an enlightened and discerning way; respond to the expressive qualities of music with sensitivity and appreciation; and be capable of sharing their perceptions and responses with others through the vocabulary and activities intrinsic to music and the scholarship of music.
Goals
With the expectation of inherent varying levels of achievement, the following curricular objectives have been established by the Music Department in order to meet the needs of music majors and minors, general education students, and the community-at-large. The department endeavors to provide opportunities to:
Achieve an understanding and an affinity for music by encouraging students to relate musical experiences to their aesthetic perceptions;
Examine various parameters of music such as rhythm, melody, harmony, form, style, and expression through composing, performing, and listening;
Assimilate methodologies used during the disciplined examination of the musical experience, thereby enhancing the ability to articulate value judgments;
Explore their perceptions and understanding of the intellectual, social and physical worlds through creativity and scholarship as a means of recognizing the values and limitations of the human experience;
Apply aesthetic and practical concepts in the creation and recreation of music;
Gain insight into the interrelationships among academic disciplines by studying how music reflects periods of history, literature, theater, and art;
Help students master the specialized vocabulary, technical skills, conceptual approaches, and analytical and/or creative tools required for successful performance;
Help students develop applicable skills - such as reading complex material, communicating effectively, and thinking critically - that are needed in order to successfully perform in a wide variety of situations, and to foster self-expression and confidence in the area of inter-communication.
Foster an awareness of, a capacity for, and a disposition toward a disciplined examination of human experience.
Equip students with a sound academic and practical foundation for assuming the roles and responsibilities of a productive member of a community.
Student Learning Outcomes
Music Department Program Student Learning Outcomes
(SLOs 1 – 3 and all Music Ed-specific SLOs are NASM language)
Revised Spring '13

For ALL theConcentrations
1:  Students will demonstrate the ability to hear, identify, and work conceptually with the elements of music – rhythm, melody, harmony, and structure.
2:  Students will demonstrate familiarity with, and an ability to perform a wide selection of musical literature representing principal eras, genres, and cultural sources. 
3:  Students will demonstrate ability in performing areas appropriate to the student's needs, interests, and degree path.
4:  Students will demonstrate effective English writing skills. 
Additional SLO For Composition Concentration
C1.  Students will demonstrate the skills to compose music for large ensembles, chamber ensembles and solo instruments while utilizing tonal, centric and non-tonal compositional procedures.
Additional SLOs For the Music Education Concentration
ME 1. Conducting and Musical Leadership:  Music Education majors will be able to demonstrate knowledge of physical gestures (accurate beat patterns, cuing, entrances, releases, expression) and rehearsal strategies that lead to musically expressive and technically accurate performances with large and small ensembles found in K-12 settings.
ME2. Arranging:  Music Education majors will be able to transcribe, arrange, modify, and adapt music from various original sources to suit ensemble types, sizes, and skill levels of K-12 music students.
ME3. Functional Performance:  Music Education majors will be able to demonstrate, in addition to the skills required of all music majors, functional performance abilities in keyboard, voice, and all orchestral instruments found in typical K-12 classrooms.
ME4. Analysis/History/Literature:  Music Education majors will be able to apply knowledge from music theory, history and literature studies to curriculum development, lesson planning, and daily classroom and performance activities.
ME5. Motivation:  Music Education majors will be able to excite the imagination of K-12 students, motivating them to seek musical knowledge and skills and to develop an appreciation for music as an art form that is part of their intellectual and cultural heritage.
ME6. Methods/Policies/Standards:  Music Education majors will be able to critically examine methods and policies in the arts for their influence on the musical and cultural growth of K-12 students.
ME7. Advocacy:  Music education majors will be able to provide a cogent rationale for inclusion of music in K-12 core curricula.
ME8. Repertoire Selection: Music Education majors will study and apply prioritized criteria for selection of music literature to be rehearsed and performed with K-12 students.