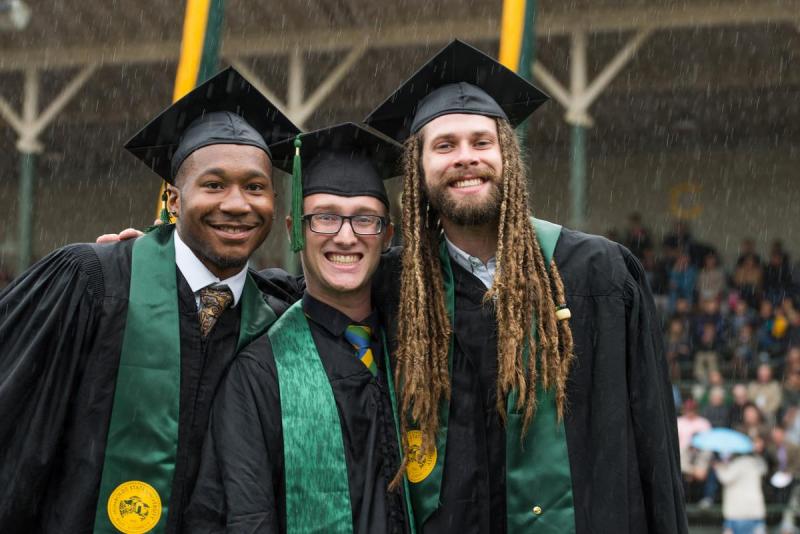 The Bachelor of Arts degree program in Music provides a basic understanding of the theory and history of music, performance opportunities in many styles and genres, and individual instruction in voice, piano, composition or instruments from highly-qualified faculty who are active musicians and scholars.
The music curriculum is divided into a core of courses required of all majors, plus an additional group of required courses specific to one of four concentrations:  Music Studies, Composition, Performance, and Music Education.
All students begin in the Music Studies Concentration. Students who wish to change from the Music Studies Concentration to Composition, Performance, or Music Education Concentrations must audition by the end of the fourth semester at Humboldt for students who start their freshman year at Humboldt, or by the end of the first semester at Humboldt for upper division transfer students.  (See audition information beginning on page 27 of the Music Student Handbook.)
All music major classes must be taken for a grade, except ensembles that are one only offered credit/no credit.
The department is accredited by the National Association of Schools of Music (NASM) 11250 Roger Bacon Dr., Suite 21, Reston, VI, 20190-5248, 703-437-0700.
Purposes & Vision
Purpose:

The Cal Poly Humboldt Music Program immerses students in a hands-on exploration of diverse musical traditions and experiences, integrating musical performance, music scholarship, and the connections between music and technology. 
We cultivate musical skills, encourage musical expression, and nurture musical creativity to empower students to achieve their highest artistic, scholarly, and professional potential.
Vision
We commit to being a program where students from diverse backgrounds are able to thrive.  We equip students to understand how music has connections to issues of equity and inclusion, and how exploring music can enable us to develop more just societies.  

We support music for all: university and community, performers and listeners, beginners to advanced musicians, and music from many cultures.  We welcome musicians of all ages to participate in music-making and learning events on campus.  We also embrace opportunities to partner with schools and community arts organizations within our region.

We value excellence and teach our students how to effectively strive for constant improvement.  We endeavor to support each student's interests, needs, and personal growth during their studies. 

We equip students to engage with music as a lifelong practice. Our students explore the role of music in today's world and consider how music and musical skills can address the world's challenges.  

We support explorations of music as it relates to diverse cultures, technology, and other disciplines.  We foster creativity to support musical growth, problem-solving, and the development of human potential.
Music Department Degrees & Concentrations
Music Department Degrees & Concentrations
Five Year Course Rotation
View the course rotation to see when courses are offered.
Music Major Core Requirements
Our core program gives you a strong foundation in music theory, history and ensemble performance—it's the perfect base for either graduate study or a career in music. All students take the core and can choose from concentrations in Music Studies, Performance (Instrumental, Guitar, Piano or Vocal), Composition, and Music Education.
Students may pursue more than one option, and our program also provides you the flexibility to explore classes within any of the four options.
MUS 110:  Fundamentals of Music (3)
MUS 214:  Theory I (3)
MUS 215:  Theory II (3)
MUS 314:  Theory III (3)
MUS 315:  Theory IV (3)
MUS 216:  Ear Training I ( (1)
MUS 217:  Ear Training II ( (1)
MUS 316:  Ear Training III (1)
MUS 317:  Ear Training IV (1)
MUS 112:  Piano I (1)
MUS 113:  Piano II (1)
MUS 130:  Piano III (1)
MUS 330:  Piano IV (1)
MUS 104:  Introduction to Music (3)
MUS 302:  Music in World Culture (3)
MUS 348:  Music History:  Antiquity to 1750 (3)
MUS 349:  Music History:  1750 to Present (3)
(See Music Student Handbook for Ensemble Requirements for your primary performing area.)
MUS 106 or 107 – Ensemble (1)
MUS 106 or 107 – Ensemble (1)
MUS 106 or 107 – Ensemble (1)
MUS 106 or 107 – Ensemble (1)
MUS 406 or 407 – Ensemble or MUS 353 Accompanying (1)
MUS 406 or 407 – Ensemble or MUS 353 Accompanying (1)
MUS 406 or 407 – Ensemble or MUS 353 Accompanying (1)
MUS 406 or 407 – Ensemble or MUS 353 Accompanying (1)