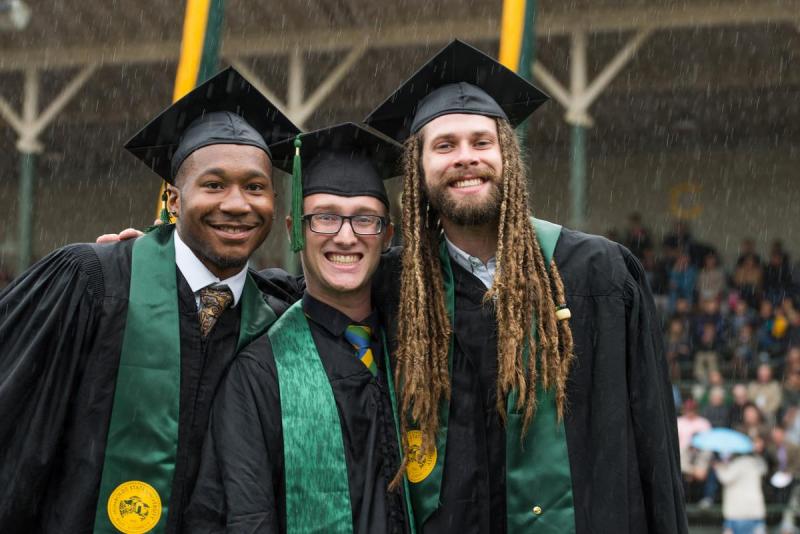 The Bachelor of Arts degree program in Music provides a basic understanding of the theory and history of music, performance opportunities in many styles and genres, and individual instruction in voice, piano, composition or instruments from highly-qualified faculty who are active musicians and scholars.
The music curriculum is divided into a core of courses required of all majors, plus an additional group of required courses specific to one of four concentrations:  Music Studies, Composition, Performance, and Music Education.
All students begin in the Music Studies Concentration. Students who wish to change from the Music Studies Concentration to Composition, Performance, or Music Education Concentrations must audition by the end of the fourth semester at Humboldt for students who start their freshman year at Humboldt, or by the end of the first semester at Humboldt for upper division transfer students.  (See audition information beginning on page 26 of the Music Student Handbook.)
All music major classes must be taken for a grade, except ensembles that are one only offered credit/no credit.
Music Department Degrees & Concentrations
Music Department Degrees & Concentrations
Five Year Course Rotation
View the course rotation to see when courses are offered.
Music Major Contracts
Music Studies Concentration
Performance Concentration – Instrumental Emphasis
Performance Concentration – Guitar Emphasis
Performance Concentration – Piano Emphasis
Performance Concentration – Vocal Emphasis
Music Composition Concentration
Music Education Concentration
Music Major Core Requirements
Our core program gives you a strong foundation in music theory, history and ensemble performance—it's the perfect base for either graduate study or a career in music. All students take the core and can choose from concentrations in Music Studies, Performance (Instrumental, Guitar, Piano or Vocal), Composition, and Music Education.
Students may pursue more than one option, and our program also provides you the flexibility to explore classes within any of the four options.
MUS 110:  Fundamentals of Music (3)
MUS 214:  Theory I (3)
MUS 215:  Theory II (3)
MUS 314:  Theory III (3)
MUS 315:  Theory IV (3)
MUS 216:  Ear Training I ( (1)
MUS 217:  Ear Training II ( (1)
MUS 316:  Ear Training III (1)
MUS 317:  Ear Training IV (1)
MUS 112:  Piano I (1)
MUS 113:  Piano II (1)
MUS 130:  Piano III (1)
MUS 330:  Piano IV (1)
MUS 104:  Introduction to Music (3)
MUS 302:  Music in World Culture (3)
MUS 348:  Music History:  Antiquity to 1750 (3)
MUS 349:  Music History:  1750 to Present (3)
(See Music Student Handbook for Ensemble Requirements for your primary performing area.)
MUS 106 or 107 – Ensemble (1)
MUS 106 or 107 – Ensemble (1)
MUS 106 or 107 – Ensemble (1)
MUS 106 or 107 – Ensemble (1)
MUS 406 or 407 – Ensemble or MUS 353 Accompanying (1)
MUS 406 or 407 – Ensemble or MUS 353 Accompanying (1)
MUS 406 or 407 – Ensemble or MUS 353 Accompanying (1)
MUS 406 or 407 – Ensemble or MUS 353 Accompanying (1)