The Cal Poly Humboldt Percussion Ensembles are dedicated to the performance of classical, contemporary, experimental, and world music, and provides many varied performance opportunities for percussionists at all skill levels. The Percussion Ensemble is divided into two groups - the Cal Poly Humboldt World Percussion Group and the Cal Poly Humboldt Contemporary Percussion Ensemble.
In fact, Cal Poly Humboldt is home to one of the largest collections of percussion instruments on the north coast of California, including Black Swamp and Noble & Cooley snare drums, Yamaha and Gretsch drumsets, Zildjian and Sabian cymbals, Yamaha and Ludwig Timpani, a Musser xylophones, vibraphones, & marimbas, a Yamaha Vibraphone, Adams and Deagan chimes, a set of Fall Creek orchestra bells, four custom-made Marimba One rosewood marimbas, and a custom-made Marimba One four-octave rosewood xylophone (hand-made in Arcata, California - the home of Cal Poly Humboldt).
PERCUSSION ENSEMBLE (CONTEMPORARY) - MUS 107/407P
The Contemporary Percussion Ensemble performs classical, contemporary, and experimental literature for percussion instruments, with special attention given to 20th century composers such as John Cage, Lou Harrison, Amadeo Roldan, Carlos Chavez, Edgard Varese, and Steve Reich. The ensemble takes special pride in presenting authentic and historically correct interpretations of the true classics in the percussion ensemble repertoire, and their instrumentation often includes the usage of vintage and custom-made instruments. The ensemble also presents a wide variety of contemporary fusion music for percussion ensemble incorporating percussion orchestras consisting of almost every percussion instrument imaginable.
Video of the Cal Poly Humboldt Percussion Ensemble performing "Ma Meeshka Mow Skwoz" by Mr. Bungle
Video of the Cal Poly Humboldt Percussion Ensemble performing "Ketiak" by Akira Nishimura
Video of the Cal Poly Humboldt Percussion Ensemble performing "Ogun Badagris" by Christopher Rouse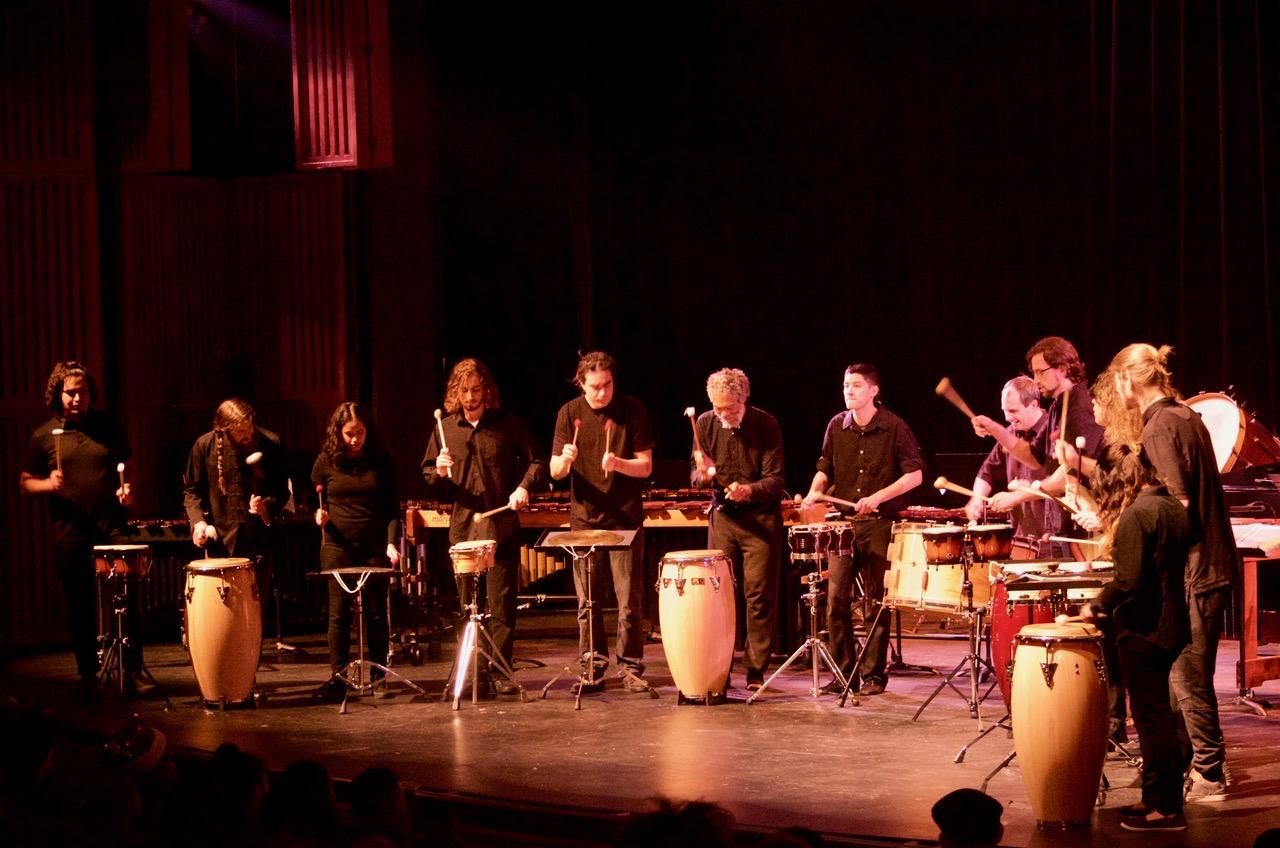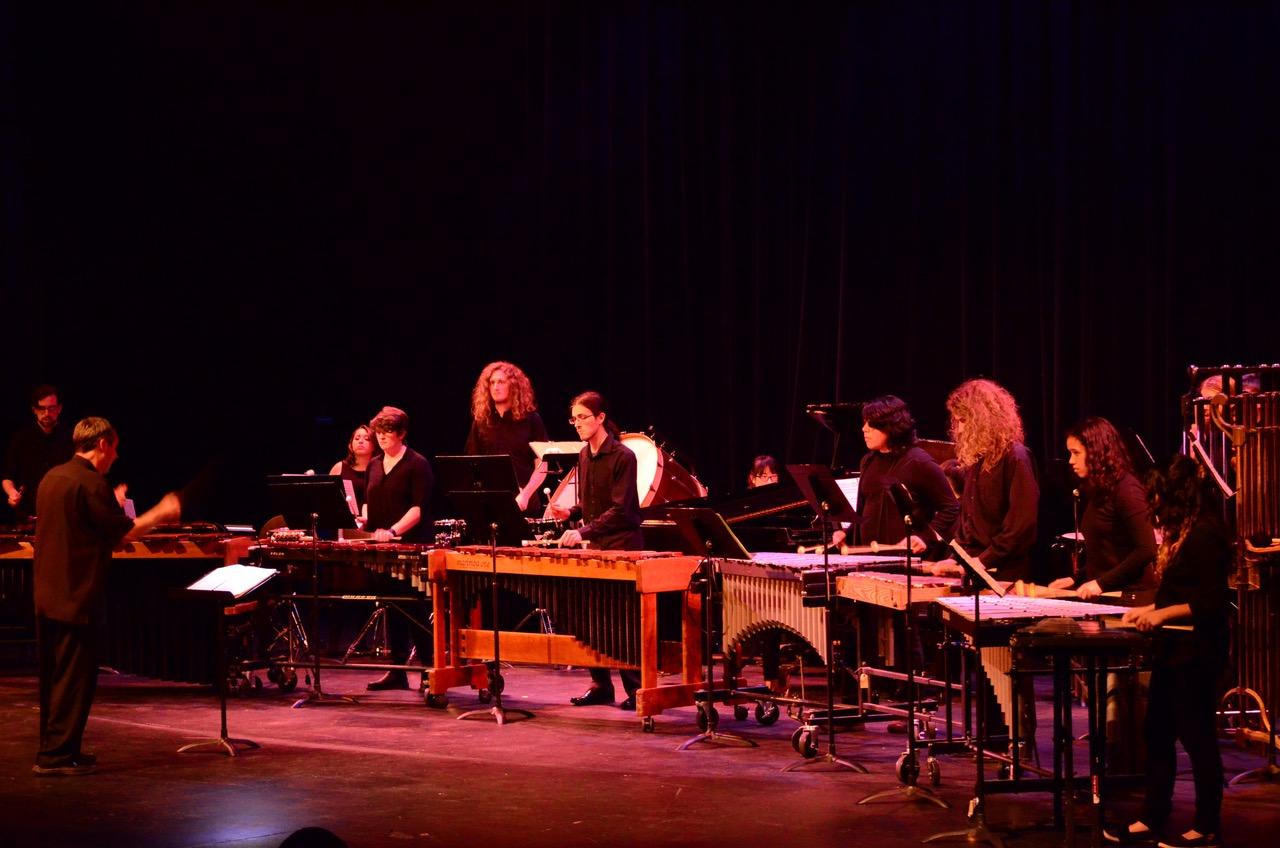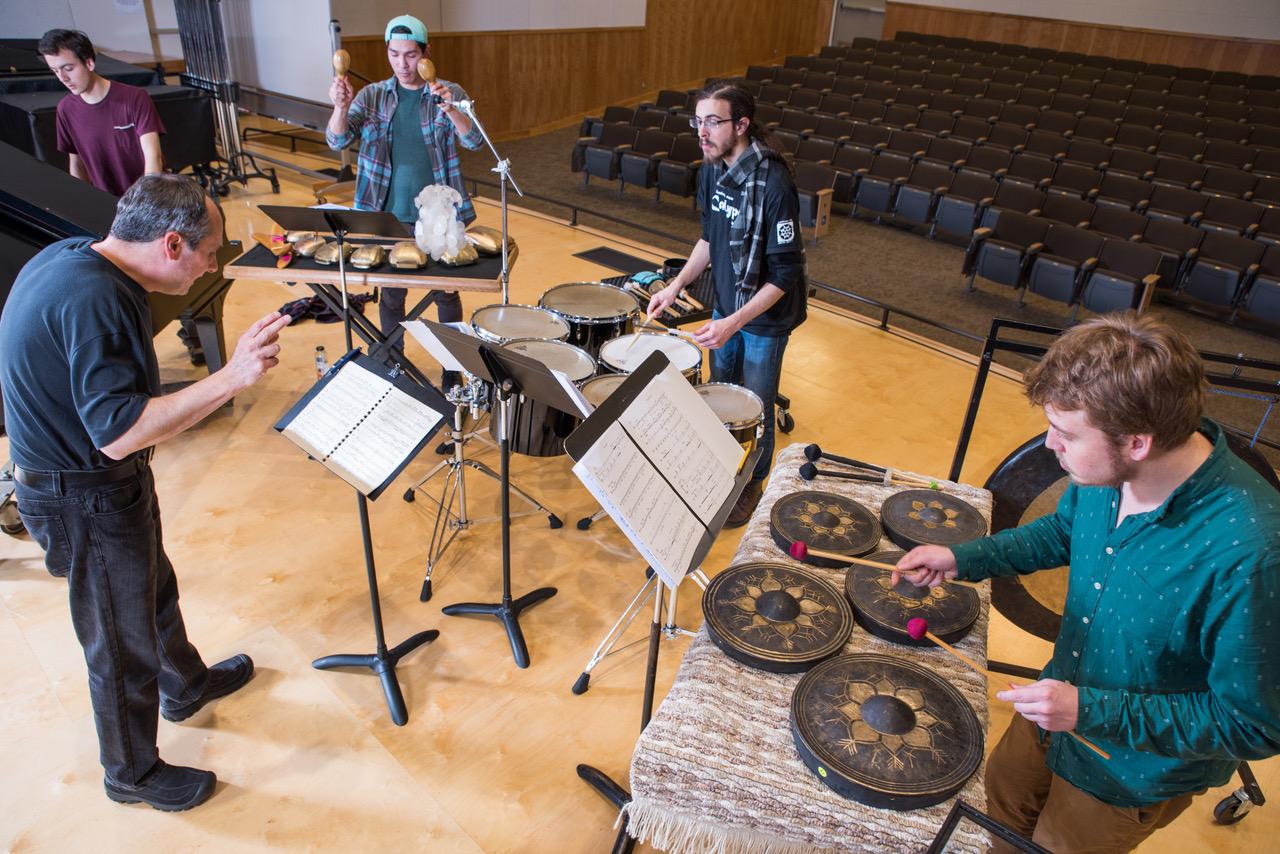 WORLD PERCUSSION ENSEMBLE - MUS 107/407Q
The Cal Poly Humboldt World Percussion Group performs the music of Cuba, Brasil, and West-Africa on indigenous instruments. This ensemble prides itself in performing authentic transcriptions of traditional Afro-Cuban folkloric music, Brasilian Samba-Reggae and Samba-Batucada, and both the Ewe and the Mandeng traditions of West African dance-drumming music.