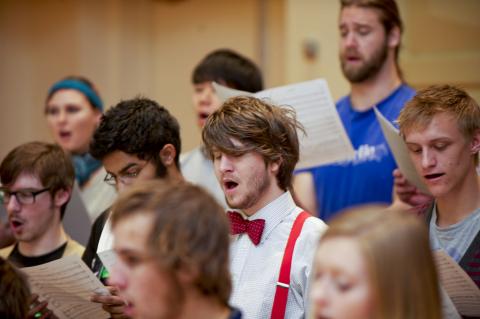 The Cal Poly Humboldt music department proudly offers three choirs. The choirs are open to all Cal Poly Humboldt students, regardless of major. The choirs thrive on the unique dynamic of students with widely varying interests and majors coming together to express themselves through choral music. In each of the choirs students learn healthy vocal technique, musicianship and performance skills. Each choir performs in at least one concert per semester.
Humboldt Chorale, the largest of the ensembles, does not require an audition and is composed of students and community members. Madrigal Singers offers a solid choral experience in a smaller setting and requires a brief audition. University Singers gives more experienced singers the opportunity to focus on advanced repertoire and requires an audition. All of the above choirs perform a wide range of repertoire, including traditional music from the Renaissance through the 21st century, music from various cultures around the globe, as well as popular styles. The Mad River Transit Singers offers students with interest in jazz and talent for singing close harmonies to explore the diversity of jazz styles and the opportunity to sing in a choir of about 12-14 singers.
Please feel free to contact Dr. Rachel Samet with any questions you have about the choirs or to set up an audition. All auditions are friendly and are intended to help find the best Humboldt choir for you at this time. We invite you to join us!
Dr. Rachel Samet, Director of Choirs
rachel.samet@humboldt.edu
HUMBOLDT CHORALE - MUS 106/406N
Tuesdays 7:00-8:50 PM
Founded by Professor Emeritus Dr. Leland Barlow more than fifty years ago, the Humboldt Chorale is Cal Poly Humboldt's largest choir and is made up of students, Cal Poly Humboldt faculty and staff, and community members. Singers rehearse and perform a wide variety of choral repertoire, including music from various time periods and genres from classical to contemporary, as well as music from diverse cultures. The Humboldt Chorale enjoys occasional performances with the Humboldt Symphony. Each semester culminates with at least one performance at the end of the semester. No audition is required.
UNIVERSITY SINGERS - MUS 106/406B
Mondays, Wednesdays, and Fridays 11:00-11:50 AM
University Singers is the premier choir at Cal Poly Humboldt. University Singers performs music from numerous styles and time periods, from Western classical music to music from various cultures around the globe and contemporary works. They have toured throughout California and perform regularly at Cal Poly Humboldt events on campus and in the community. University Singers enjoys occasional performances with the Humboldt Symphony. An audition is required, and most (but not all) students have previous choral experience.
MAD RIVER TRANSIT SINGERS (MRT) - MUS  106/406F
Tuesdays and Thursdays 1:00-2:20 PM
Mad River Transit Singers is Cal Poly Humboldt's vocal jazz ensemble. The ensemble explores a wide variety of styles within the genre of vocal jazz. Students develop the ear and voice to enable the ability to sing the close harmonies and rhythms that contribute to the unique musical style. All students learn how to scat sing. Students receive training to perform with microphones for sound reinforcement. Mad River Transit Singers performs at least once on campus during the semester, and often performs within the community as well. An audition is required.