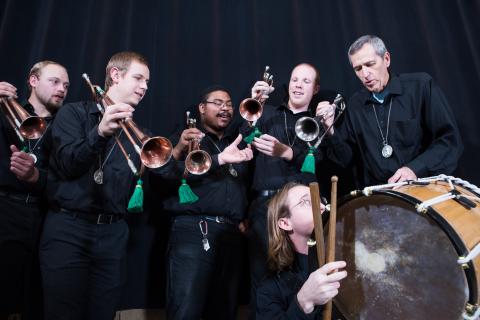 The Brass Ensembles at Cal Poly Humboldt are based on the honored tradition of closely-knit chamber music groups and have performed on concerts and recitals, taken regional tours, researched performance practices of early music and the early brasswinds, and served the campus and the community. Coached and directed by Dr. Gilbert Cline, there are typically one or two ensembles per semester. Some are new each semester while others continue for periods of time.
The smaller groups are generally trio, quartet, or quintet -- with various combinations of trumpet, horn, trombone, euphonium, and/or tuba. From time to time there have been like-instrument ensembles of trumpets (including baroque trumpets), or of horns, or or trombones, or of tubas.
Larger groups, generally not conducted, range from 6 to 10 and larger.
The Humboldt Brass Choir performs annually at Humboldt Commencement and for many years did so for the Arcata Community Christmas Concert. Music performed ranges from Copland's "Fanfare for the Common Man" to the Venetian antiphonal divided-choir works of Giovanni Gabrieli.
Humboldt Bay Brass Band is a brass ensemble using instrumentation of the UK, based on two dozen brass, with cornets instead of trumpets. Music performed ranges from baroque to classic to contemporary, and even test-pieces used in the UK contests. HBBB recorded a full-length audio CD in 2005 and has been heard on podcast and television.
Trumpet Consort von Humboldt performs baroque (and modern) music on replicas of natural trumpets dating to 1667. TCvH has performed with Baroque timpani, with pipe organ, and even with carillon -- from towers at both U.C. Berkeley and Stanford.
Brass Consort von Humboldt is a touring group which for a time was devoted to performance practice of renaissance and baroque music on historic brass instruments, including replica instruments such as natural trumpet, cornetto and sackbut (alto, tenor, and true bass), and even lysard and serpent. BCvH has appeared at conferences of the California Music Educator's Association and the Historic Brass Society.
Feature concerts have included subscription community concert series, the Rhododendron Festival concert, and with Oregon's Jefferson Baroque Orchestra in a rare performance (on old instruments) of Handel's "Royal Fireworks Music." Tours have included performances in California missions and cathedrals; in San Francisco at Grace Cathedral, the museum at Palace of The Legion of Honor, and even at Ghirardelli Square. In 2002 BCvH recorded a full-length audio CD, "Tour de Brass."